The Justin Gall Homage and Home Page!
Formerly a Gay Animal Porn Web page
---
MORE FUN THAN WRESTLING GRANDMA!
---

Warning: This webpage may contain traces of peanut and, is not part of a complete breakfast.
IT will however give your dog a nice healthy coat.
*May get soggy in milk.*

---
As if you needed it!
But you know you wanted it!
A web page shamlessly devoted to myself. (ha!) Inundating you with the sarcasm, humor and artwork of me,
Justin Gall
---
"Who is Justin?"
I ask myself that same question every day. Who am I? Then my mom slaps me and she says "I don't care who you are, but you better not go fruity!"
Hi, I'm Justin Gall! Greeting and salutations and welcome to my little nook on the net. My little haven of humor, my own little self generated 15 minutes of fame, and shameless self promotion.
I'm a writer, a cartoonist, a professional guest book signer, but mostly an employee of the local Target Greatland here. I live in Minnesota, land of 10,000 lakes and no more than two fish in each lake. And yes currently Jesse Ventura has our state in an "Iron Claw". As for what I have to say about it? Well just like his pro-wrestling career, anything he attempts to do for the state won't be felt, or won't make an impact.
I'm trying to keep the first page here clean of graphics and what not, so there's humor here people! Take a chance! Click on one of my links here, and you'll be hooked. The page ain't much now, but Me (Gall) darn it! It will be!
Just remember it's all meant in fun.
-Justin Gall
---
---
This web page is brought to you by: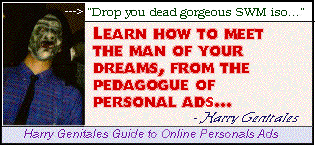 Click here to be enlightened by the online love god, Harry Genitales
---
---
My Favorites!
Create Your Own "Unabomber"Cereal, Cereal Box! A Step by step guide on making a box of your very own Unabomber cereal! No it doesn't explode! It's a guide to make your very own irreverent and funny piece of art, or whatever you want it to be. NO BOMBS! It's comedy, I think. Just copy and print the images, and paste them on a cereal box. I recommend Kellog's Frosted Flakes! Them thar is good eatin'! Oldie but goody.
---
Odd Product, insight, and info on and from the Mind of Justin Gall...
My Beliefs... an online podium of ideas, thoughts and more of my twisted logic to make you think. You can also find out how to join, and find out more about, my grass roots organization (literally), I started and been working on for quite some years called P.E.T.V. A cause and belief that you should read about and support... OR just laugh at me and call me a dork like my friends. Whichever.
Not Right Ok, so not everything I've done has been a winner of an idea. And Sometimes I, offend people. See some of my work I did that has offended people. Also see my "My Beliefs" page for things that probably will offend people.
Justin Gall's Guide to School Survival Ten things to know to help you get through those terrible years at school. No buying a bullet proof vest isn't one of them. Avoiding it all together could be!
Corn My Corn speech/Corn propoganda
---
DRAWINGS!!! Uh, yeah. Here's some drawings that I've done over the years. Pending copywrites and all, and selection (because people steal my freaking ideas!). So I'm working on scanning more, but I work BIG, and I have a small scanner. So...
FrankenswineThe name says it all people. I came up with this idea a couple of years ago, and I saw a recent cartoon show with the same name of the character. Makes me mad, but what can you do? SUE! Sue the pants off the bastards! (I'm gonna sick the govenor on them!) Still, it's an oldie but goodie from Justin. Sorry, some load time.
See also "Not Right" more drawings.
---
HEY!
Take a look at some of my failed attempts at becoming an entrepeneur. Yeah, have a laugh at my expense here.
A Word From Our Sponsors A look at some of my vain attempts to start my own buisness. Actual newspaper ads I put out for various buisnesses I've had over the years. I don't know why my pet spading (not spaying) service didn't take off?
---
---
Make sure you at least visit my main sponsors!
"Ugly Insurance" Are you ugly? Or afraid you could be? Find out how "Ugly Insurance" can work for you!
---
---
So Dangerous... It Hurts. The Man behind the Comedy... Pictures of Justin Gall
---
---
Only the best links of the net...
Jaime "Koko" Shockman's Personal Web page! My Oregonian love slave's homepage. Call her Koko! She loves it! And she tastes good with milk. Terrific girl, but she doesn't update her web site. The poor sap actually writes her own html! HA! Go there, bug her, get her to update her darn web site PLEASE! (and besides, the hundred visitors she's had there... All me)
Purina.com The next best thing to a home page for kitty litter... A home page for pet food! How cool is that! The other half of the two most interesting web pages on the net if you ask me!
WeirdAl.com Visit the man whose music I grew up on. I actually used to listen to him on my brown fisher price tape player every night before going to bed, from like 6 years old on. Didn't do a DAMNED thing to me either. No.
---
Psst... Hey you! Want to know more about Justin? See his profile!
---
And coming soon! Writings, drawings, and much much more wrought from a whole lotta dateless nights Including: Stuff, stuff, and nude pictures of celebrites! And many more mad scribblings and ideas brought to you from the mind of Justin!
---
COME BACK SOON! I'm working on updating this right as you read.

---

This web page was created by Netscape, and ME Darn it!
Choose netscape's webpage builder to make your life a living hell!
I've had so much problems with netscape 4+, that it almost wasn't worth it.
Yeah but let's see Bill Gates put one of these bastards into his browser huh? Yeah!

---
---

Check out these pages whilest your ad it. I mean at it!

Nick the llama is probably the coolest mascot on the net, and he also happens to be a spitting animal against child pornography! YES! Nick will blind you pedophiles with his saliva and report you to the FBI! Seriously. Child pornography should be reported, and go here to report it, or find more about nick's cause.
---
---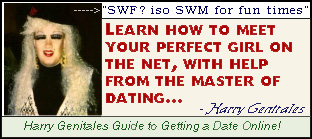 Having trouble finding a date? Let harry teach you how to meet lovely phillies like this one!
---
---

Yes! And here's another banner...



HEY LOOK! It's the Justin Gall's Home page Banner! YES!
Decorate YOUR homepage with this crudely done banner!



Watch your nuts!
---
---
E-Mail Me!
or
Sign My GUEST BOOK!
Tell me what I'm doing wrong, tell me what I'm doing right!
Give me some ideas or your phone number if you're a hot sexy dancing poodle!
Or say: "Hi!" Or: "Your web page is Damned skippy if you ask me."
Ok, I've come to the conclusion that either A. You don't know how to sign my guestbook, or...
B. You just don't like my guest book.
So, to sign my guestbook, just press your little pointer dealy on the guest book button below,
(then fill in the blanks and hit submit), or if you don't like that one, I've added ANOTHER ONE!
Sheesh. Sign 'em both!
Sign My Guestbook
View My Guestbook