fake Dr. Harry Genitales Ph.d.'s*
*pretty hot dude
Guide To Getting a Date Online!
(or more likely how not to)
---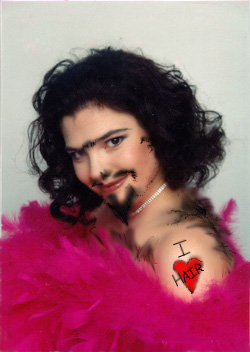 I'll teach you how to meet lovely ladies like this one!
---
Hi, my name's Harry, Harry Genitales. And if you know me, you know that I know how to give good lovin'. Why I've loved more women more ways than I can count on all eleven of my fingers. You'll know who they are too. They're the ones walking around with a smile on their face, and a left nostril 12 sizes bigger than the right. Oh yeah, I know my lovin'. In fact I'm a doctor of loveology, and I'm here to tell you people how to do it on the net... the internet I mean. I'm through with the circus so I'm not going to tell you how to do it on that kind of net.
Moving on!
I've for some time now, had phenomenal success finding a date over the net. Why I've gotten more sex than a paralyzed Korean crack whore laid out on the poop deck of U.S. Battleship. Of course I can get lovin' anywhere, but I thought I'd take time out of my busy love making schedule to teach you web-heads a thing or two.

---
Step 1. Step numero "UNO" for you lovely latin ladies... Rrrrrwow!

"Find yourself a personal ad site!"
It's really hard to put out a personal ad, or respond to one without
first having a place to do it.

And don't worry Tiger, I'll give you a list of personal ad sites later.
---
Step 2! Nombre "DEUX" for all you French speaking fillies! (and the French women too!)

Write that Personal ad!!
Ok here's the meat. Here's what you've been looking for, and here's what you really came here to find out how to do right? I know you, you've had some trouble writing a successful ad. Here's how to do it.

You've probably seen them before. Swm iso Swf. Sound greek to you? Well then you're not greek. I'm not either so I'm not going there with a joke.
| | | | |
| --- | --- | --- | --- |
| S- single (not engaged) | W-white (like no pigment) | F-female (i.e. a woman) | ISO- in search of |
| M-married | B-black | M-male | yo/yrs-year old/years(age) |
| G-gay | A-asian | Bo- both organs | DSP-desperate |
| D- divorced | H-hispanic | ??- doesn't know | CIS-covered in spiders |
Next knowing the codes... Get a subject, or a header that's really going to grab the reader's attention.

Pick a title that from the rest, but in a nutshell tells who you are, and what you're looking for. Here's some examples that have really been successful.
Example: "90 yo cross dresser iso someone to dress him/her"
Example: "I'm fat, but I'm easy, write me if you want a chunk of my action"
Example: "Young, leggy, brown haired widow, looking for trusting older richer male"
Example: "Chemically dependent male, seeks rich co-dependent female."
Example: "Let me love you 'till your deaf. Dr. in lovin' knows how to do it!"

Ok, the last example was from my ad, but I always have a lot of success with the ladies, so I had to put it in.
Now when writing your subject line don't tell them too much about yourself. Leave them wanting more. And that's where the body, or the personal ad itself comes in!

Ok sparky, here's where it get's tricky. You just snagged a would be mate with your subject line, now you've got to keep them. Here's where you tell all about yourself and what you're looking for in detail, but make it short! If it's too long, then they're going to loose interest. And if it's too short, then they don't know what they're missing. I however am just right, so girl if you're reading this, and you're wondering on how to get some lovin', just skip all the ad laying junk. Write me baby. I can work over parts of your body that you never even knew needed lovin'.
Examples...
Example: Swm, goofy, fairly attractive (at least I think so). Seeks smart witty
person, to have sarcastic cynical conversations about society, or about
Elvis... God love him! Well enough about you back to me. I'm 6'4
a writer/cartoonist/artist all around/wise cracker/EVIL!!! I've got
brown hair, green eyes, two arms, three legs and a partridge family
in a rose bush. Well E-mail me, you have no choice... You are
mesmerized by me. You will E-mail me! Oh yeah I'm 18 going on 19
in may (my golden birthday). I don't care how old you are. Should I?
Example: I'm 5'6", brunette, single male, looking for
hot wild Godzilla sex. Do you like rolling
around on Japanese buildings, or even having Japanese
people shout at you and run while having sex????
Well so do I!!!!! So please contact me.
Maybe we could wrestle for the fate of Japan.
Example: My friends say I'm a little "out there", and I must admit
that this whole personal thing is really "alien" to me, but here
it goes. I like mutilating cows, making crop circles, abducting
and implanting people with metal objects. If you like to do the
same please contact me.
Example:
The combination....
Subject: Satan worshiper iso human sacrifice.
The body: If you want to submit your body and soul to Satan,
please contact me.
My hobbies are: Worshipping Satan, Animal Sacrifices,
and skiing.
For some reason that first ad back there sounded a lot like someone I knew. That is waaaay back when he was 18. Hmmm... For the life of me I can't think of who. Oh well!
Ok so those are some good examples of how to write an ad. Now, let's think about answering one.
Ok... now let's learn how to!
---



Effectively Answering Ads!

Once again you need to find an ad service first, and then find an ad before you can answer it. (duh!) You know who you are, you know what you're looking for. I can't help you there. Unless you're a fine "tall glass of water" type woman looking for a drinker. I can help you out there baby. All you got to do is write me. Me Harry Genitales... PHD. I've got a long tongue, and a big ass thirst. I'll lap you up, and maybe get one of those bendable straws and suck you dry like a wet dry vac. Ooo yeah...


Step 1. You remember what that is don't you Lovely Latin ladies don't you? Even some of you un lovely latin ladies. You remember who wrote that, and that he's always available to give you some lovin'.


And there's only one step to this. After you found the ad, YOU ANSWER IT! Pretty simple huh? Not unless you're me. All you got to do is make it simple. Don't give them your life story, and don't be pessimistic either! Never be pessimistic. "You probably had a lot of responses to your ad, and I don't think you'll like me but here we go...!" NO!!!! Don't do that. Be confident. Don't be over confident though. Be yourself. That's the best advice for you. Actually you should try and be more like me. Look at me! I'm the Mc Daddy of Lovin'! Ooozin from every orifice with special sauce! And do I have good buns. Sesame seed, and toasted to a pale white. Mmmmmmm.... Do I make you Hungry baby? Why just open your right eye, and get ready for the ride of your life. Oooo yeah... Harry knows how to do it. I paid 35 dollars to get that Ph.D. through the mail baby. You better believe I know how to do "it!"

Examples of how to answer an ad effectively...

Example: I also enjoy bondage! And I've got a case of super glue and a red ant farm both
waiting to be opened. Write me, and let's get together. I could glue your head
to the bottom of a steel girder, and you let your imagination fill in the rest.

Example: I liked your ad, and I must admit I too enjoy horse back riding and just
lounging by the fireplace on cold nights. Sounds like we have a lot in common!
I'm tall, blonde hair, blue eyes, 6'2", 35yo, fit, and I've been told that I'm good
looking (mostly by my mom... ha!). And I'd love to hear more about you and what
you're interested in. So far you sound terrific! And if you don't hear back from
me right away it's because I'll be up at my cabin. My invilid mother's driving me
crazy! So I have to leave dad and mom at home for a bit. (they're ok if I date though)
Talk to you later!

Example: Hey baby, I'm a doctor. Doctor of love. You can call me Mr. Love, but all the
women that I've been with me call me Harry. I know how to give good lovin', and
if you just write back to me baby, we'll start talkin'. Reeeal slow, and reeeeal nice.
And then I'll get you alone, and chances are you'll fall for me, and you'll run the risk
of having your belly button unraveld like so many other women I've been with.
Ooooo-yeah.
Write me baby, you won't be disappointed.

Example: Howdy! I'm a single female interested in the finer things in life... But you'll do.
I'm 5'9, 25yrs old, long brown hair, 125lbs, and graduating Harvard this fall.
I'm all female, and as long as you aren't, I think we can get along just peachy.
Write me!

And there you have it. Now you basically know how to answer ads, and write them and the whole nine yards as best as your newest and bestest best friend Harry Genitales, PH.D. So what are you wating for? Go to the personal ad sites below!
---
---
Personal Ad Sites
A collection, not necessarily a good one.
Yahoo Personals Named appropriately because if you find someone "YAHOO!" Should have (in my opinion) been called "Eureka!"
Classifieds 2000 a big-ass collection of single people. Totally free (which is good), and plenty of women willing to give good nostril too. (believe you me!)
One And Only Eh, it's ok. Has a lot of users, and if you sign up for their service you make me money!!! Can't beat that!
Alternative connections Ummm if you're bored with the way you've been doing it... Why not try the "alternative"... like here! Alternative personals.
Friend Finder Yeah, if you're just looking for a friend, use this friend finder! Hey hey!
And if you don't like any of those, why not try...
---
---
E-mail Harry!



Letters to Harry
---
---

Awww... Who needs love right?
Then why not try humor!


Justin Gall's Online Homage andHomepage. Your source for nut biting comedy